Veterinary Nurse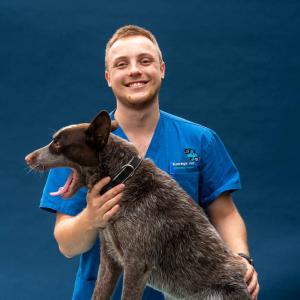 I'm a vet nurse here at Kooringal Veterinary Hospital and I have been working here for 8 years. I started out in the rescue centre at Berry Street when I was 14 and I slowly worked my way up from there. I am now known as the cat and dog whisperer since all our nervous patients are soon putty in my hands. Somehow, I survive as the only male nurse here probably because what works on the patients works on my colleagues too!
At home, I have 2 dogs and a cat that keep me quite busy. When I'm not at work I'm usually found road-tripping, going on spontaneous adventures and the occasional camping trip around the Riverina.
I help animals because I love to see the joy on everyone's faces when their furry companions are feeling better and on their way home.