Proud pyometra survivor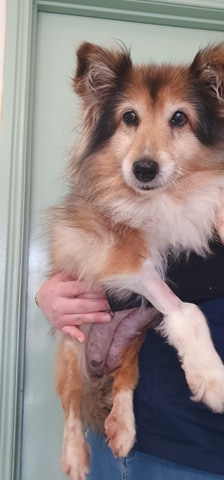 Meet Tammy! She presented to our team with purulent discharge from the vulva. Her symptoms were quickly recognised to be pyometra.
*A warning for graphic imagery*
Pyometra is a relatively common life-threatening infection in the uterus which can occur in female dogs of any age, but is more common in older dogs. The preferred and most effective treatment requires surgical removal of the infected uterus and ovaries. Without rapid intervention the chances of survival are grim, but following surgery there is a very high chance of survival.
Pyometra will occur in almost all female dogs at some point in their life, and is one of several medical reasons why it is important to get your dogs desexed. Even in dogs used for breeding, it is strongly recommended that they be desexed once they are no longer having litters.
Signs of pyometra include lethargy, loss of appetite, vomiting, and purulent discharge from the vulva. Thankfully, Tammy's surgery was a success and she was reunited with her owner after a short stay in hospital!