Chocco was vomiting for almost two years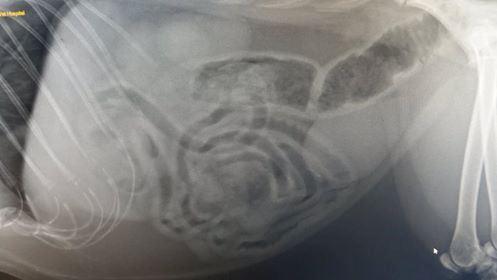 Chocco the cat presented to KVH for a groom. After gathering a thorough history and performing a complete physical examination, it was identified that the patient had been suffering from weight loss and frequent vomiting for approximately 2 years.
Previous diagnostics at a clinic out of town yielded no answers as to the cause of the clinical signs and the client had resigned to accept that there was nothing that could be done. The examination identified that the intestines of the cat felt thickened and an x-ray of the abdomen was performed which confirmed this suspicion. It can be seen in the x-ray that the intestinal walls are thick and irregular. These signs are consistent with one of two conditions - a type of cancer called small cell intestinal lymphoma or inflammatory bowel disease.
The only way to differentiate between the two is by taking surgical biopsies which are invasive and costly. Fortunately, the treatment for both conditions are similar and thus the client opted for a treatment trial. Three weeks down the track and Chocco is doing much better with treatment. All vomiting has stopped and he so far has gained 300g in weight! Both conditions carry a good prognosis with treatment and Chocco is now expected to live a happy, healthy life from now on.