Image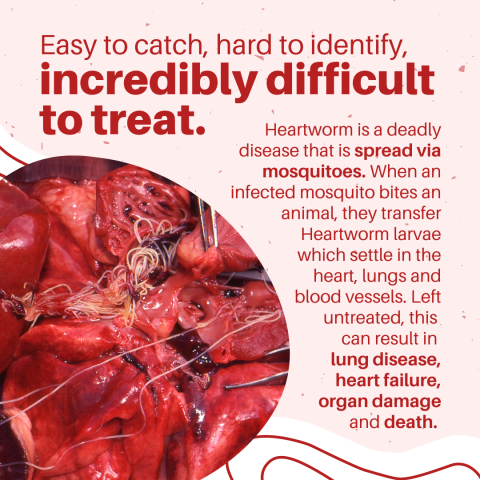 Our veterinary team have noticed a worryingly steep spike in Heartworm detection amongst local pets, particularly in the Wagga and Griffith areas. Prior to 2021, our Practice Owner Mark Sayer had not seen a case of Heartworm in our area for ten years.
Heartworm is a deadly disease that is spread via mosquitoes. When an infected mosquito bites an animal, they transfer Heartworm larvae which settle in the heart, lungs and blood vessels. Left untreated this can result in lung disease, heart failure, organ damage and death. Heartworm can survive within an animal for up to seven years whilst continuing to breed. We urge all pet owners to begin Heartworm protection as treatment is costly, complicated and sometimes requires surgical intervention.
To help combat Heartworm, we're offering FREE Heartworm tests to vaccination patients over 6 months of age this month. We're also offering a FREE first dose of ProHeart SR12 Heartworm protection this month for puppies under 12 weeks of age. Eligible pups must not have already started Heartworm protection.
For further information about Heartworm, or to inquire about free testing and protection, please give us a call or contact us via our email submission form.