Clinic Cat & Leader of Operations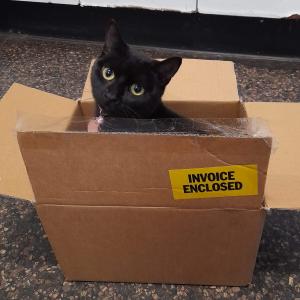 Hi, I'm Rhonda! I was adopted earlier this year by the Kooringal team after being abandoned, and it didn't take long before I climbed the office ladder to unofficial CEO. I like keep my employees on their toes by surprising them with a new challenge on a regular basis. I've found that drinking from their cups, showering in their sink and getting into the cat food stash is an excellent way to boost teamwork by seeing who can catch me first.
I may seem tough, but I do have a soft side! When I'm not patrolling the clinic and checking in on our patients, you'll usually find me cuddled up on someone's lap in the office. I'm good at acting nonchalant, but when I need some affection I'm not too proud to ask for a cuddle and a scratch!
For updates on my escapades, you can check out our Facebook and Instagram socials.