Practice Owner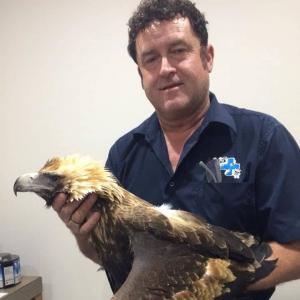 I graduated from Sydney University in 1983. After working in clinics around Sydney, I moved to Wagga and opened Berry Street Veterinary Hospital and Junee Vet Clinic. During the next 18 years, I and a small handful of dedicated nurses worked the two practices, including making weekly visits to outlying towns in order to see animals far away from vet hospitals.
I now work at our numerous vet hospitals now, Kooringal Vet Hospital, Junee Vet Hospital, Federation Vet Hospital in Corowa, Henty Veterinary rooms, Cooper St Veterinary Hospital in Cootamundra and Griffith Vet Hospital.
I have 2 dogs and 4 cats in the family as well as 7 beautiful children. You will often see me in the practice with 'Monkey' my Pomeranian X, who travels all over the Riverina visiting the practices. In my spare time I enjoy refereeing the real football (soccer) and am qualified to referee the A-League, I'm just too old and not fit enough. LOL.
I have completed Veterinary Chiropractic training in Germany and have recently developed my surgical and medical skills with marsupials with a strong following of loyal clients who travel from all over Australia to visit me. I'm in the process of finishing my MBA and Masters of Marketing at Deakin University.
I absolutely love flying as I have my pilots licence and enjoy the freedom of travel it brings.